Testimonials
We have so many testimonials from the last few years from people that happily used our DJ services for their weddings, parties and other events. Thanks for taking the time to have a read. Here's just a few…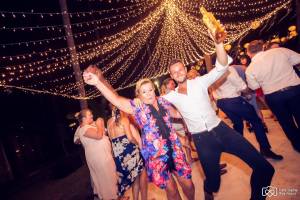 ''Thanks for a truly wonderful evening, it was great!''
Alice & Luke's wedding - Villa Kalyana,
February, 2017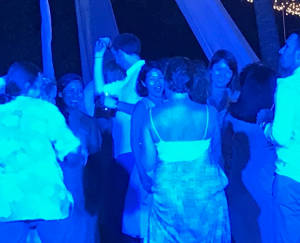 Great night, we all had such a laugh!
Melissa & Andre's wedding - Dreamcatchers, Koh samui,
January, 2017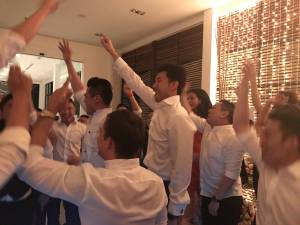 'we loved the old school hip hop, thanks again'
Edwin & Winny's wedding - The Library, Koh Samui,
December, 2016
'' mate your doing an amazing job I told you the dance floor would be packed!!''
 The groom Marc and Elly – Dreamcatchers,
July, 2016
Steve,
Just wanted to say thanks again for a great evening on Saturday. Two very happy boys here leaving to head back to the Uk tomorrow with huge smiles. The tunes were great and took a jump down after you left, though the party did manage to push on til gone 3.
We thought you'd like the attached photo!

All the best
Ben & Jules – Dreamcatchers – YL, Koh Samui,
July, 2016
Hi Steve,
Just a little note on behalf of Vicky and I to say a huge thank you for being DJ on our wedding day and for giving us and our guests a truly memorable party.
The tunes you selected were spot on, in fact they were exactly what we were after - you read the guests and the mood perfectly!!! Everybody said how much of a great time they had and the music was a massive part of that.
Next time we're in Samui (before too long in all likelihood) we'd love to try to see you play at one of the clubs or party's on the island. What's the best way to know when / where you're playing?
Thank you so much once again Steve - we couldn't have made it what it was without you!! All the very best.
Vicky & John  - Dreamcatchers Weddings,
February, 2017
Dear Steve
Thank you for your wonderful service and hope to work with you again soon!
Best regards,
Natthanan Phoosakul (Beam) Assistant Sales & Events Manager, The Library, Koh Samui,
December, 2016
Hi Steve & Kris,
Thank you so much again for DJing for Joyce & Scott's wedding at Samujana last Sat. Again, Kris did an amazing job in getting the guests into a super high mood. Apologize for not providing Kris a list from the couple however Kris did a great job anyways! I'll make sure he gets a request list next time ;-)
See you again next time. Have a great week!
Amy Fung, Kiah Weddings,
July, 2016
Hi Steve, thx again for amazing party on Sunday
Khun Aey – Dreamcatchers,
July, 2016
The MUSIC was on point!! It was exactly what we wanted and couldn't have been better, thanks for coming out to meet us prior. The Kanye West song with the fireworks, was a perfect fit in terms of timing and getting the crowd hyped. In our opinion this is one of our most memorable moments of the day!!
Gems & Eric –YL, Koh Samui – Dreamcatchers Wedding,
March, 2016