Testimonials
We have so many testimonials from the last few years. Here's just a few…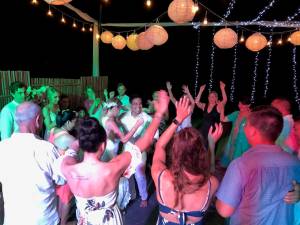 Thanks so much. Everyone has said how amazing the music was.
Haylie & Lautaro ,
January, 2018
DJ Kris rocked our wedding party!!
DJ Kris rocked our wedding party!! I've never seen a dance floor fill up so quickly. He read the room and gave our guests what they were after, and people found it hard to get themselves off the dance floor.
maz roginski @ Ton Sai Bay,
July, 2017
Thanks so much for the music, and the mash up that Kris did for the father/ daughter dance.
Everyone loved it – (The bride at the end of the evening).
Jennifer & Eddie – Panacea, Koh Samui,
April, 2017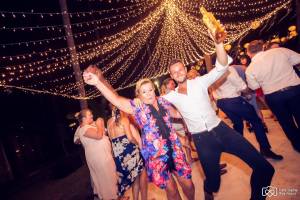 ''Thanks for a truly wonderful evening, it was great!''
Alice & Luke's wedding - Villa Kalyana,
February, 2017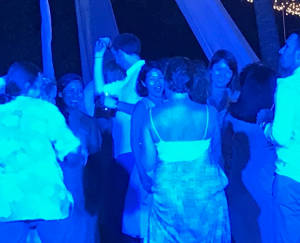 Great night, we all had such a laugh!
Melissa & Andre's wedding - Dreamcatchers, Koh samui,
January, 2017
Thanks so much for last night, everyone loved the music and had a great time. Just wanted to drop you a quick note to say thank you for doing an amazing job.

All the best and once again many thanks
James and Shivani - Dreamcatchers,
August, 2017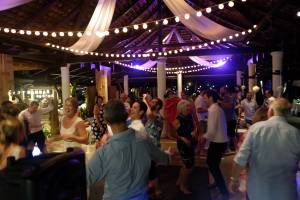 'That was amazing, thanks so much!'
Cara & Tristan's wedding - Melati Resort, Koh Samui,
June, 2017
Hi Steve!
Thanks once again for your hard work on the 25th; it's such a breath of fresh air to work with someone who has a passion for their job.
I can't say I've seen that 'ever' when it comes to DJ for a wedding! I was still buzzing when I left!
Alice and Luke's wedding – Villa Kalyana
Rebecca Allen, Wedding planner, Villa Kalyana, Koh Samui,
February, 2017
Hi Steve,
Just a little note on behalf of Vicky and I to say a huge thank you for being DJ on our wedding day and for giving us and our guests a truly memorable party.
The tunes you selected were spot on, in fact they were exactly what we were after - you read the guests and the mood perfectly!!! Everybody said how much of a great time they had and the music was a massive part of that.
Next time we're in Samui (before too long in all likelihood) we'd love to try to see you play at one of the clubs or party's on the island. What's the best way to know when / where you're playing?
Thank you so much once again Steve - we couldn't have made it what it was without you!! All the very best.
Vicky & John  - Dreamcatchers Weddings,
February, 2017
Dear Steve
Thank you for your wonderful service and hope to work with you again soon!
Best regards,
Natthanan Phoosakul (Beam) Assistant Sales & Events Manager, The Library, Koh Samui,
December, 2016